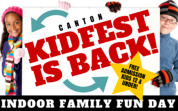 Web Page

WHBC's Canton KidFest 2017


Saturday, February 18, 2017
at 11:00 A.M. Kidfest 2017
Saturday, Feb. 18, 2017
11:00 am - 5:00 pm

Indoor Family Fun Day
Come in from the cold and play! Lots of crafts, characters, bouncy houses, face painting, entertainment, and more! It's an event designed for cultural, social, and educational enrichment of kids. Not to mention, it's just plain fun! Kidfest provides hands-on activities and entertainment for kids 12 and under as well as great info for parents and grandparents. Don't miss out this year!

Admission for children aged 12 and under is free, however, children must be accompanied by an adult. Adult admission is $5. Tickets will be available at the door. Inflatables $3 per child. That's good for ALL inflatables.