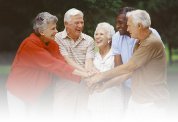 Senior Day "Crique Des Seniors"


Tuesday, May 16, 2017
at 8:30 A.M. Stark Senior Service Network Presents:
CIRQUE DES SENIORS
Seniors Soar

Doors open at 8:30am. Admission tickets are $5.
Includes lunch, door prizes, BINGO, dancing, music, and more!

FREE transportation from SARTA on regular bus routes to and from event when presented with Senior Day ticket.

Tickets are available at the Canton Civic Center Box Office (cash only), local Senior Centers, or by calling 330-280-4841.