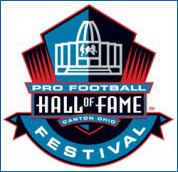 Web Page

Pro Football Hall Of Fame Enshrinement Festival's Fashion Show Luncheon


Friday, August 4, 2017
at 11:30 A.M. At the 2017 event, guests will enjoy delicious wine, lunch and a decadent dessert, followed by a show featuring fashions from casual to dressy and everything in between. The seasonís hottest fashions were provided by local and regional stores, and showcased both male and female models.

QUESTIONS OR NEED FURTHER INFO -- Contact Event Manager Elissa Prazer at 330.458.2052 or elissap@cantonchamber.org.

FOR TICKET INFORMATION - Contact Ticket Manager Kim Miller at 330.458.2048 or kimm@cantonchamber.org or reserve your tickets now.