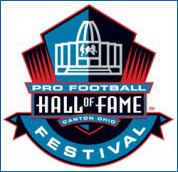 Web Page

Pro Football Hall of Fame Enshrinement Festival Fashion Show Luncheon


Friday, August 3, 2018
at 11:30 A.M. Guests will enjoy a delectable lunch, followed by a show featuring fashions from casual to dressy and everything in between. The seasonís hottest fashions will be provided by local and regional stores, and will showcase both male and female models.

Seating in various satellite rooms, all offering the same quality meals and amenities. After dinner, guests come into the main arena elevated perimeter seats to enjoy a great view of all the festivities.

New Security Measures & Parking Changes for the 2018 Civic Center Enshrinement Festival Events:
Due to enhanced security measures during the Pro Football Hall of Fame Enshrinement Festival, a PRE-PURCHASED PERMIT is required for the Civic Center Parking Deck.

Permits must be purchased in ADVANCE at www.profootballhofef.com/purchases or by calling 330.458.2048. Limited spots are available, so reserve your spot early!

*Market Ave. N. 9th-12th St. will be closed to vehicular traffic.
*Driveway between Cultural and Civic Center will be closed to vehicular traffic.
*Parking Deck will be accessible ONLY from Cleveland Ave. (Stay in East curb lane.)
*Event tickets must be presented to access both the property and event.
*All guests will go through a security screening device, so allow extra time!
See complete security changes and road closures at www.profootballhofef.com.