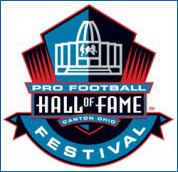 Web Page

Pro Football Hall of Fame Enshrinement Festival Gold Jacket Dinner


Friday, August 3, 2018
at 5:00 P.M. Congratulations to the Class of 2018 Enshrinees - Bobby Beathard, Robert Brazile, Brian Dawkins, Jerry Kramer, Ray Lewis, Randy Moss, Terrell Owens, and Brian Urlacher!

Guests at the 2018 event will witness the Class of 2018 Enshrinees receive their gold jackets, one of three iconic symbols of induction -- the other two being the bronze bust and the ring. The evening will begin with a cocktail party and delicious dinner prior to the crowd offering warm congratulations to the Class of 2018, along with many Gold Jackets who were in town to celebrate and to welcome the newest members. Truly a night to remember, the Enshrinees' Gold Jacket Dinner is a fantastic event!
Nearly 25,000 men have played in at least one National Football League game, but since the Pro Football Hall of Fame was established in 1963, only 310 football players, coaches and/or contributors have been inducted into the Hall of Fame.

QUESTIONS OR NEED FURTHER INFO -- Contact Event Manager Elissa Prazer at 330.458.2052 or elissap@cantonchamber.org.

New Security Measures & Parking Changes for the 2018 Civic Center Enshrinement Festival Events:
Due to enhanced security measures during the Pro Football Hall of Fame Enshrinement Festival, a PRE-PURCHASED PERMIT is required for the Civic Center Parking Deck.

Permits must be purchased in ADVANCE at www.profootballhofef.com/purchases or by calling 330.458.2048. Limited spots are available, so reserve your spot early!

*Market Ave. N. 9th-12th St. will be closed to vehicular traffic.
*Driveway between Cultural and Civic Center will be closed to vehicular traffic.
*Parking Deck will be accessible ONLY from Cleveland Ave. (Stay in East curb lane.)
*Event tickets must be presented to access both the property and event.
*All guests will go through a security screening device, so allow extra time!
See complete security changes and road closures at www.profootballhofef.com.