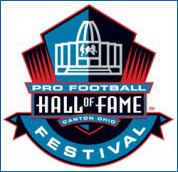 Web Page

Pro Football Hall of Fame Enshrinement Festival Enshrinees' Roundtable


Sunday, August 5, 2018
at 12:30 P.M. Congratulations to the Class of 2018 Enshrinees - Bobby Beathard, Robert Brazile, Brian Dawkins, Jerry Kramer, Ray Lewis, Randy Moss, Terrell Owens, and Brian Urlacher!

The 2018 event will offer an unscripted, up-close-and-personal format where the Enshrinees share stories and memories of their careers. An NFL Network broadcaster will host the festivities as an entertaining emcee. Come enjoy a delicious lunch followed by epic stories from your favorite Enshrinees. Once you attend this fan favorite, you'll never want to miss it again!

QUESTIONS OR NEED FURTHER INFO -- Contact Event Manager Elissa Prazer at 330.458.2052 or elissap@cantonchamber.org.

For additional ticket information contact Ticket Manager Kim Miller at 330.458.2048 or kimm@cantonchamber.org or reserve tickets now.

New Security Measures & Parking Changes for the 2018 Civic Center Enshrinement Festival Events:
Due to enhanced security measures during the Pro Football Hall of Fame Enshrinement Festival, a PRE-PURCHASED PERMIT is required for the Civic Center Parking Deck.

Permits must be purchased in ADVANCE at www.profootballhofef.com/purchases or by calling 330.458.2048. Limited spots are available, so reserve your spot early!

*Market Ave. N. 9th-12th St. will be closed to vehicular traffic.
*Driveway between Cultural and Civic Center will be closed to vehicular traffic.
*Parking Deck will be accessible ONLY from Cleveland Ave. (Stay in East curb lane.)
*Event tickets must be presented to access both the property and event.
*All guests will go through a security screening device, so allow extra time!
See complete security changes and road closures at www.profootballhofef.com.