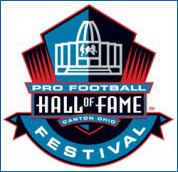 Web Page

Pro Football Hall of Fame Enshrinement Festival Fashion Show Luncheon


Friday, August 2, 2019
at 11:30 A.M. The Fashion Show Luncheon is one of the inaugural events of the Pro Football Hall of Fame Enshrinement Festival, and continues to be a success today, 56 years later. It is arguably the largest and finest fashion show in Ohio with nearly 3,000 guests. Showcasing a variety of fashions, including men, women and children's clothing from local and national stores and using state-of-the-art sound, lighting, and video this is a show you don't want to miss!

This year guests enjoyed delicious wine, lunch and a decadent dessert, followed by a show featuring fashions from casual to dressy and everything in between. The season's hottest fashions will be provided by awesome local and regional stores and boutiques. The show will also feature lively entertainment.

QUESTIONS OR NEED FURTHER INFO - Contact Event Manager Elissa Prazer or phone (330) 458-2052.

Sponsorship opportunities are available by contacting Chris Gumpp (330) 458-2055 for 2019.

Purchase tickets and parking permits now or for more information contact Ticket Manager Kim Miller at 330.458.2048 or kimm@cantonchamber.org.