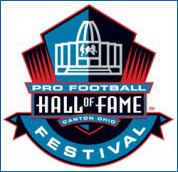 Web Page

Pro Football Hall of Fame Enshrinement Festival Enshrinees' Roundtable


Sunday, August 4, 2019
at 12:30 P.M. Congratulations to the Class of 2019 - Champ Bailey, Pat Bowlen, Gil Brandt, Tony Gonzalez, Ty Law, Kevin Mawae, Ed Reed and Johnny Robinson!

The Enshrinees' Roundtable is truly a one of a kind event that offers an unscripted, up-close-and-personal format where the Class of 2019 Enshrinees share stories and memories of their careers. An NFL Network broadcaster hosts the festivities as an entertaining emcee. Guests will enjoy a delicious lunch and dessert followed by epic stories from their favorite Enshrinees. Once you attend this fan favorite, you'll never want to miss it again!

QUESTIONS OR NEED FURTHER INFO -- Contact Event Manager Elissa Prazer at 330.458.2052 or elissap@cantonchamber.org.


Purchase tickets and parking permits now or for more information contact Ticket Manager Kim Miller at 330.458.2048 or kimm@cantonchamber.org.