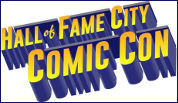 Web Page

Hall of Fame City Comic Con


Saturday, September 28, 2019
at 10:00 A.M. Special Guests Are...

Ashley Witter:
An independent illustrator living in the Northwest suburbs of Chicagoland. She graduated from Madison Area Technical College with a degree in Animation (aka videogame design). Currently, she works on her personal comic series Squarriors, and Scorch.

Ash Maczko:
Writer of Squarriors and Cigarettes & Carrot Juice, game designer of Squarriors the Card Game, Fight Your Friends, and Lady Death the game.

More information to come!