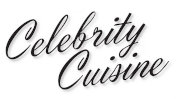 Web Page

Celebrity Cuisine


Tuesday, March 31, 2020
at 5:30 P.M. THE TRI-COUNTY RESTAURANT ASSOCIATION & COMMUNITY HARVEST REQUEST THE PLEASURE OF YOUR COMPANY AT:
THE 28TH ANNUAL CELEBRITY CUISINE 2020
PRESENTED BY: ATLANTIC FOODS

5:30pm - 8:00pm

GENERAL ADMISSION TICKETS: $40 PER PERSON
Tickets can be ordered by using the order form found at the "Web Page" button. Ticket requests will only be available through the mail prior to March 24, 2020.
After March 24th, tickets can continue to be purchased at the Tri-County Restaurant Association or Community Harvest office.
General admission tickets will be available at the door on the day of the event.

Please join us for the 28th Annual Celebrity Cuisine on Tuesday, March 31, 2020. Food enthusiasts from all over Northeast Ohio will enjoy a feast of local flavors, including unlimited access to appetizers, entrée samples, beer, wine, and desserts. Guests will enter through the box office doors again this year, so we will have plenty of space for all the things attendees enjoyed the most about our last Celebrity Cuisine – live acoustic music by Hey Monea in the beer garden, entertainment by Kenny & JT of News-Talk 1480 WHBC, more food vendors and additional reserved seating in the McKinley Room.

All proceeds from the event will be donated to Community Harvest, the prepared and perishable food rescue program of the Akron-Canton Regional Foodbank, to provide wholesome, nutritious meals at no cost for individuals in need in our local community.

Early VIP access for yellow ticket holders at 5:00pm.