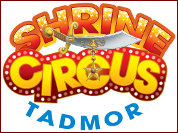 Seating

Tadmor Shrine Circus


Friday, March 20, 2020
at 7:30 P.M.

Additional Shows For This Event:
Sat., Mar. 21, 2020 at 10:00 A.M.
Sat., Mar. 21, 2020 at 2:30 P.M.
Sat., Mar. 21, 2020 at 7:30 P.M.
Sun., Mar. 22, 2020 at 1:00 P.M.
Sun., Mar. 22, 2020 at 5:30 P.M.


2020 Tadmor Shrine Circus
Tickets go on sale February 3, 2020 at 10:00am.

This performance features all general admission, first-come-first-serve seating. There are no reserved seats for this performance.

Ticket Prices:
Adults: $17.00
Children (Ages 3 to 12): $12.00
Children 2 and younger: FREE
Military/First Responder Discount: $12.00
(Must present ID for discount. Only good on Friday and Sunday performances.)
During the month of February, if you purchase 10 or more tickets, the group discount is $12.00 each.
*Additional fees may apply*

Tickets can be purchased at the Canton Civic Center Box Office Monday - Friday, 10am - 4pm or online at Ticketmaster.com. TICKETS:
Tickets Available at the
Canton Memorial Civic Center
and at TicketMaster on-line.